[ad_1]
Tips and TrendsWedding Inspo | September 29, 2020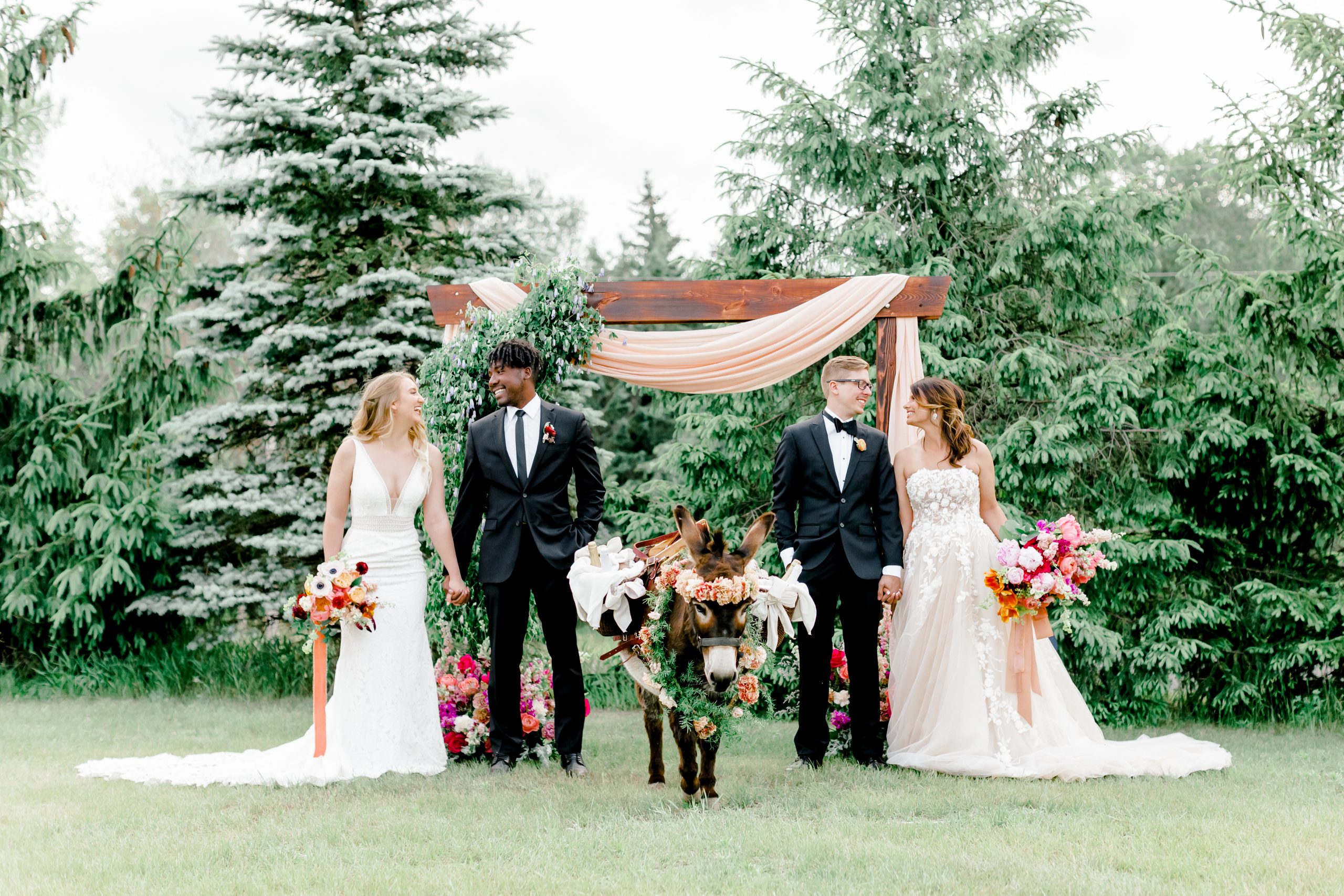 If you've got your heart set on a summery outdoor celebration, look no further for inspiration than this rustic bohemian wedding styled shoot from photographer Lindsey White! Featuring fabulous florals and the cutest donkey wedding guest (not to mention the gorgeous meadow backdrop), this wedding gallery is designed by all things bright, beautiful, and blooming. AND it's extra personalize-able for your unique bridal aesthetic. Keep scrolling to find what speaks to you!
Inspiration for Styled Shoot and Rustic Bohemian Wedding Venue
We're loving this rustic bohemian setup at the Happy Tails Petting Zoo property (based out of Minnesota). It's such a fun and stylish choice for couples looking for alternative venue options and fabulous party extras!
This gorgeous greenery would be any wedding photographer's dream. And those big, sweeping meadows give your occasion an air of Old World romance and sophistication. It's everything we love about a classic summer celebration, with chic updates for the modern and whimsical couple.
"Our goal was to create a mixture of colorful vibes, boho glamour, and European elegance. We wanted to create something unique and fun for new couples to see how they can really make a wedding day their own!" –Lindsey White, Photographer.
A Cute Donkey for a Rustic Bohemian Wedding Theme
You've seen wedding pups and beta-fish centerpieces, but how about a donkey drink server? "Poncho the Donkey was our star!" says Lindsey. "The inspiration for the styled shoot came from our florist, Karen from Tulips and a Kiss, who is friends with Jody from the petting zoo.
They loved the idea of a donkey serving beverages to wedding guests. It's a chic trend out of Napa, California that they wanted to bring to Minnesota. They asked me to be the photographer, and from there everything fell into place!"   
Poncho is a fabulous party host, as he is used to hanging around with families and other animals. If your venue allows animals, we suggest reaching out to petting zoos or hobby farms in your area to see if you can find your own friendly animal guest, be it a donkey, llama, Shetland pony, or mini goat!
(Note: it's fairly easy to incorporate a furry guest into your reception or ceremony. Just check with your venue coordinators and vendors, and be sure give your guests a heads up in case of allergies or general discomfort with animals. Friends and family of all ages will love this live entertainment!)
About the Wedding Models
If these models seem especially natural and affectionate with each other, it's because they're actually in love! Nick and Hilary (the bride wearing Zareen by Maggie Sottero) and Thomas and Brianna (the bride wearing Burke by Maggie Sottero) are real-life married couples. We're smitten with how their styled shoot portraits turned out!
"We wanted to showcase a variety of looks and vibes, such as boho and European elegance, through two separate couples to connect with our audience's diverse aesthetics," says Lindsey.
These brides are a great example of how "boho glam" can be dialed toward vintage elegance (e.g. the bride wearing lace wedding dress Burke), or fairytale whimsy (e.g. the bride wearing shimmery bridal gown Zareen).
Groom's Attire for a Rustic Bohemian Wedding
And as for the grooms, they're looking super sharp in tailored black suits, a timeless and versatile choice that be styled across a variety of vintage, elegant, and rustic wedding themes. Both duos are classy and romantic, yet uniquely suited for a rustic bohemian wedding vibe. Fabulous!
Ceremony and Reception Ideas for a Rustic Bohemian Wedding Theme
Once you've got your boho-chic wedding venue, fab party aesthetic, and rustic color palette, it's all about creating a fun and personalized atmosphere for your ceremony and reception! For an outdoor celebration, consider breezy entertainment for your guests, such as lawn games, a petting zoo, acoustic music, bubbles, art projects, and DIY stations.
Create a boho festival vibe with live entertainers who interact with your attendees (think magicians and dancers). Then utilize your food and drink areas for creative DIY projects, such as a s'mores station or "pimp your prosecco" bar. Add a donkey drink service, and your happily-ever-after is sure to be a hit!
Incorporating Little Details and Showcasing Personality in Your Wedding
This rustic bohemian wedding styled shoot is all about the romantic details, from the donkey decked out in bright florals to the chic nature-inspired table settings. If you're after a similar vibe for your celebration, consider how color and texture can complement your outdoor venue. Working with all greenery?
Add contrast with saturated florals and bright embellishments. Channeling a woodsier vibe? Choose earthy tones and raw textures. Lean into your fresh aesthetic as a couple, and the romance and atmosphere will follow!
Some insight from Lindsey: "Some of my favorite elements of the shoot were the pop of color in the flowers, how each couple had their own aesthetic vibe with their dress and bouquet, and how the donkey had so much personality interacting with the couples!
As creative artists and business owners, we see a lot of inspiration and variety in how couples style their weddings. However, we don't get a say in how it looks all the time. So, a styled shoot is a great opportunity to create something of our own and bring an idea to life!"
Colorful and Vibrant Florals for a Rustic Bohemian Wedding
And speaking of color and texture, we are all about these over-the-top florals! A cascade of greenery makes for a lush and stylish accent to this wedding arch. And bright plumes add magic to the dining table. And as for the bridal bouquets, opt for bold and bright with an oversized cascade (á la Hilary in our Zareen gown).
Or, try a medium handtied style in earthy jewel tones (as showcased by Brianna in Burke). For a summery and rustic bohemian wedding celebration, you can't go wrong!  
Rustic Bohemian Wedding Dress Burke by Maggie Sottero
For a chic and romantic bohemian vibe, consider Burke by Maggie Sottero—a slinky lace bridal gown featuring an oversized floral pattern and plunging neckline. This wedding dress is designed to show off your figure without losing the softness and effortless wearability of lace, a perfect combo for an outdoor celebration!
"I loved how Burke perfectly hugs and highlights the form of whoever is wearing it. It's such a feminine and sexy aesthetic with the plunging neckline. It also gives sophisticated boho and elegant vibes with the detailed texture and illusion lace features." –Lindsey
Love this soft lace and feminine silhouette? Check out more gorgeous boho wedding gown trends on our website, featuring heirloom-inspired motifs, sexy bodice details, statement backs, and effortless layers!
Strapless Floral Ball Gown Wedding Dress Zareen by Maggie Sottero
Love a boho wedding style with a princess flair? Go ultra-glam and super feminine with this effortless A-line wedding dress decked out in shimmery lace and beading. Zareen by Maggie Sottero is blooming with vintage-inspired motifs, accenting the subtle illusion bodice and swishy tulle skirt. It's an easy bridal gown to wear for a summery celebration, yet perfectly styled for elegant indoor venues and cool-season celebrations.
"I loved how the A-line silhouette of the Zareen wedding dress gave a fun and free vibe, while also being a flattering mix of boho and ball gown. The elegant lace detail mixed with the ivory and nude undertones made the dress so sophisticated and stunning." –Lindsey
This season's rustic bridal trends are all about ethereal layers, unique sleeve treatments, soft illusion, and the chicest amount of shimmer. They're also perfect to style for outdoor locales, garden courtyards, and antique barns. Check out more rustic wedding dress trends in the link!
Some Favorite Moments from the Styled Shoot
"My favorite part of the shoot was seeing how intrigued the couples were while interacting with Poncho. They fed him carrots, walked him around, and positioned him where they needed to stand for photos. He took direction from his new friends so well! I also loved the Golden Hour photos and how the couples got to have fun popping champagne and frolicking through the tall grass." –Lindsey  
Brides-to-be, consider your favorite moments from your actual wedding planning. Do you enjoy coordinating vendors and working with your sweetheart? Are you creating opportunities for fun and relaxation?
Take it from those in the wedding industry. An engagement should be a time to bond and get creative with each other, despite the inevitable stress and chaos. Don't neglect those magical moments!
More on the Fabulous Wedding Vendors that Created this Styled Shoot
Some parting words from Lindsey on the vendors: "The vendors that made this shoot happen were so fun and talented! The planners, Adam and Christina, just got engaged. They loved working together with the animals and were such an inspiration for the team. Karen is so great at understanding a couple's vision with color and aesthetic. She knows the best vision with flowers if you tell her what colors to use and the vibes you'd like to achieve.
Karen, Adam, and Christina did a great job deciding on colors and distinct aesthetics for each couple, such as the best style of bouquet to complement the style of dress. The owners of Happy Tails Petting Zoo were so kind and helpful. They hosted hair and makeup at their house and have a whole farm area of animals like a llama, chickens, goats, pigs, and more. We had a great team who put all their creativity together to achieve our vision!"
More Styled Shoot Inspo on Our Blog
A huge thanks to Lindsey and her collaborators for sending us this gorgeous rustic bohemian wedding gallery! We're so inspired by these fresh florals and venue details. They were the perfect backdrop and embellishments for our chic and dreamy wedding dresses by Maggie Sottero.
For more color and palette inspiration, head to this styled shoot featuring watercolor hues and citrus color-blocking, one of our favorite trends from recent seasons.
And if you love this outdoor wedding vibe, check out this beachy styled shoot for a COVID-19 wedding celebration, featuring more rustic details and romantic flourishes.
(Does a small ceremony sound like just the ticket for your upcoming nuptials? There's plenty of intimate wedding and elopement inspiration in our post on minimonies and micro weddings for the modern couple.) Whatever the size and scope of your rustic bohemian wedding, these galleries are sure to inspire!
Rustic Bohemian Wedding Styled Shoot Vendors
Wedding Planner: Dos Goats Plans; Petting Zoo: Happy Tails Mobile Petting Zoo; Wedding Photographer: Lindsey White Photography; Florist: Tulip & a Kiss; Wedding Décor Rentals: Style Society MPLS; Hair and Makeup: Elle MUA; Wedding Dresses: Maggie Sottero from Xandi's Bridal House; Models #1: Hilary & Nick Turpin ; Models #2: Brianna and Thomas Williams


[ad_2]
Source link