[ad_1]
Events and BoutiquesMedia | January 26, 2021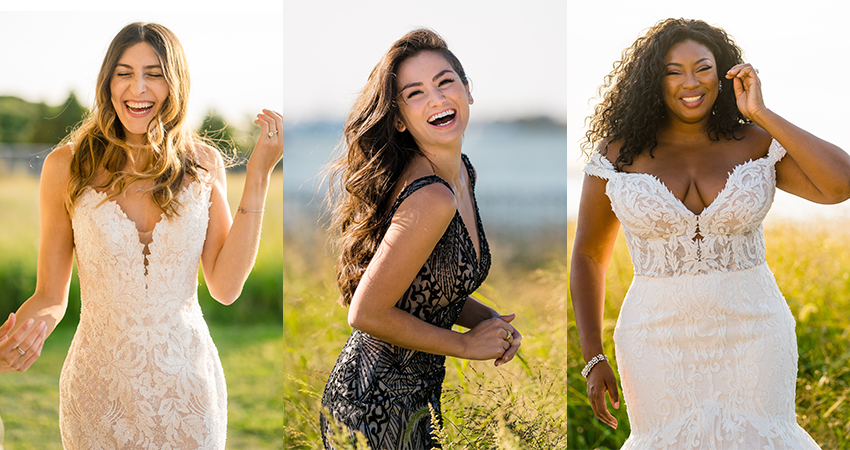 For engaged couples, 2020 may have been a year of delays, uncertainty, and lost deposits. But it gave us something exceptional: a chance to tell our love stories in intimate, personalized, and completely innovative ways. Through all the ups and downs of quarantine, all the micro weddings and minimonies, every backyard party and Zoom ceremony, Maggie Sottero has been honored to be part of each and every one of our brides' celebrations in 2020. And we were thrilled to participate in a "new normal" last fall: a gorgeous influencer event getaway inspired by real brides and their socially distanced wedding plans. Keep reading for all the style and planning inspo from Love Stories TV and Collective Retreats!
What Are Love Stories TV and Collective Retreats?
Love Stories TV is a leading media platform featuring thousands of real-wedding videos. Their extensive library showcases style, planning inspiration, product recommendations, and vendor services to help you plan your perfect celebration. Thousands of brides have used Love Stories TV to discover new ideas and curate their wedding details, from vow and speech ideas to the latest trends in fashion and décor. To have your wedding video featured on their website and social media, submit it here!
Collective Retreats, on the other hand, is a luxe hospitality service with unique glamping locations all around the country. Their Governor's Island location is the ultimate in "rustic glamour. It combines an expansive waterfront and greenspace with an unparalleled view of New York City and its harbor. Brides-to-be can book this one-of-a-kind location for their own wedding weekend or honeymoon escape. So chic!
For this retreat, we partnered with Love Stories TV and Collective Retreats to create something totally new for wedding planning: an inspo-driven and socially distanced "influencer event" at Governor's Island in New York City.
We invited some of our favorite social-media ambassadors (including our very own campaign model Liris Crosse!) to be part of this unique wedding-themed glamping weekend. During the getaway, the brides-to-be tried on personalized wedding dress selections from Maggie Sottero and shared their style and planning inspiration with their followers. We're so excited to show you the results!
Meet Our Real Bride Influencers
Attendees to our influencer event include real brides-to-be planning their real weddings, each with their own unique bridal style and vision for their big day. Before arriving at the Maggie Sottero influencer getaway, these gorgeous ladies chose a bridal persona that we could match with one of our bridal gowns. This is how we personalized each aesthetic.
Gorgeous Caila Quinn favors a sparkly and romantic aesthetic, so it's no wonder she requested a unique and show-stopping wedding gown to match her glam wedding vision.
We chose to pair Caila with our Elaine wedding dress, a Gatsby-inspired fit-and-flare featuring a sexy nude-and-black contrast. We love how this style shows off Caila's bold and feminine personality.
We've worked with the one-and-only Liris Crosse for several of our campaign seasons now, so it was natural she be part of our Maggie Sottero influencer event.
Liris chose a sexy and glamorous vibe for her wedding dress try-on. So, we chose Joss by Sottero and Midgley. This romantic and flattering bridal dress will flatter your curves, show off your back and décolletage, and add a little sparkle to your bridal portraits. Check it out at a retailer near you!
If there's anyone you should be looking to for social-distancing inspo, it's Lara Eurdolian of @prettyconnected. After all, she's the one responsible for all those chic mask chains you saw in 2020!
Lara chose "romantic" for her micro-wedding aesthetic, so we paired her with our Erin Marie wedding dress from Maggie Sottero. This linear lace design flaunts elegance, feminine vibes, and versatility for your happily-ever-after. What more could we ask for?!
For the ever-elegant Brittany Lo, the name of the bridal game was "chic and sophisticated." We chose to style her in Hamilton by Sottero and Midgley—a covetable fit-and-flare wedding dress with a stunning back design and flattering lace pattern.
Personalization tip: pair this wedding gown with long illusion sleeves for a lithe and graceful silhouette. So fab!
Influencer Christina Castonguay in Flattering Wedding Dress Fiona by Maggie Sottero
Christina of Luxe Bride Guide is already about all things weddings. So, we feel honored that she fell in love with our Fiona bridal dress at our NYC influencer event!
This fit-and-flare wedding dress by Maggie Sottero features a stunning lace design and subtle sparkle—a gorgeous choice for Christina's whimsical bridal persona. Gorgeous!
The lovely Ariel Oz is a fashion and beauty influencer based in New York City. She's all about a simple, chic, and sophisticated aesthetic. This made her the perfect candidate for one of our Rebecca Ingram wedding gowns!
To match her totally gorgeous and minimalist wedding vision, we paired her with flowy Irene wedding dress by Rebecca Ingram. Doesn't she look stunning?!
Small-business owner and #bossbabe Donna Kim requested a fairytale bridal aesthetic for the influencer event. So, we went straight for sleeves and a ball gown silhouette.
Our Vincent wedding dress features sweeping illusion lace, demure coverage, and a princess-worthy silhouette. It's a stunning choice for a stylish and elegant happily-ever-after.
Alyssa Briefloff takes a holistic and spiritual approach to her lifestyle and wedding planning. So, (naturally) she chose a boho theme for her Maggie Sottero wedding vision.
We paired her with one of our favorite floral styles, Canterbury by Sottero and Midgley—a relaxed fit-and-flare with a one-of-a-kind lace pattern. Did we nail it?
By day, Nurys Manaya is a New Jersey real-estate influencer with a colorful and ultra-feminine aesthetic. For her bridal persona, however, she chose an elegant and understated vibe.
If we do say so ourselves, she looks absolutely stunning in our Aubrey wedding dress. Featuring Vesna stretch crepe, exposed boning, and a romantic fit-and-flare silhouette, this gown is perfect for a summer micro wedding or intimate elopement!
Last but certainly not least, the lovely Juliette Dallas-Feenley showed off her glamorous bridal persona in our Pierce wedding dress—a pearl- and floral-embellished A-line bridal gown with a stunning bodice treatment. This beaded design is everything we love about princess-inspired bridalwear.
A huge thanks to the fantastic team at Love Stories TV for curating this gorgeous influencer event at Governor's Island! The Collective Retreats glamping setup was dreamy and magical, and the micro-wedding details are truly inspiring. To see more of the getaway, check out the video below!
If you love any of these bridal gowns, we'd love to see your own "influencer event" (even if it's just a champagne toast and post-shopping brunch!) at any of our Authorized Retailers.
Tag photos of you and your bride tribe using the hashtags #Maggiebride, #Midgleybride, and #Rebeccabride for the chance to be featured on our social media. Then, let us know your favorites from our Spring 2021 Maggie Sottero collections and top new styles from our three lines. Your wedding adventures are truly an inspiration during this unprecedented time. Thank you for letting us be part of your love story!


[ad_2]
Source link