[ad_1]
Dresses | March 8, 2021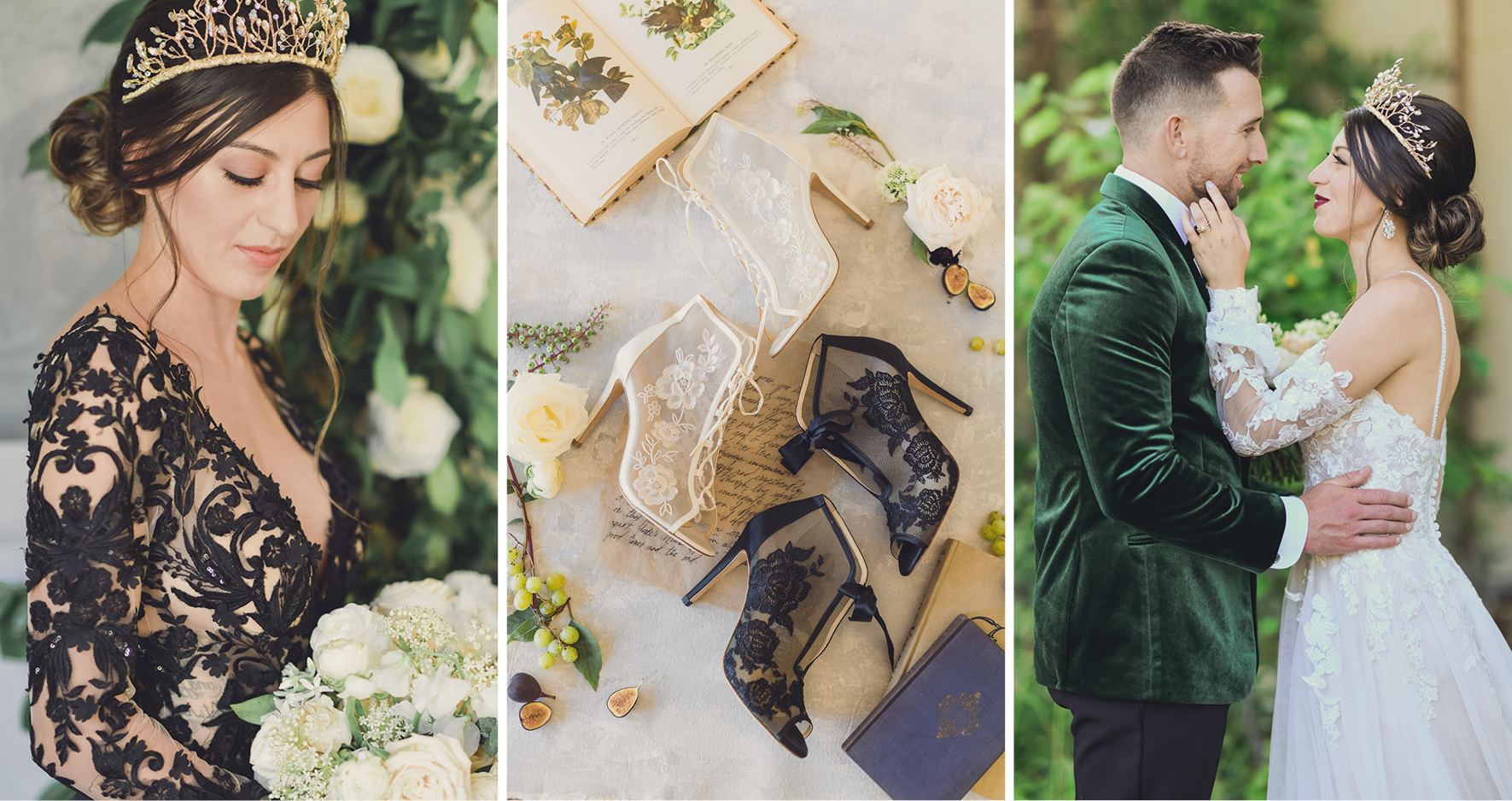 Could your spring wedding use a touch of the avant-garde? Flirting with some unconventional (read: non-pastel) options for an April celebration? Love art history and vintage elegance? Consider today's styled shoot a gift from the party-planning powers that be. Designed and executed by Bowties & Bouquets and shot by Sun and Sparrow Photography, this Luxe Spring Wedding inspiration gallery is all about timeless fairytale styling with a chic and modern retelling. Scroll on to find your favorite baroque, Victorian, and Dutch Masters-inspired details!
Romantic Vintage Wedding Invite Inspiration
To set a stylish and romantic tone for your guests, start with an upscale invite suite featuring a moody color palette, lush calligraphy, and vintage flourishes. We love this choice of coal-hued invites with white lettering and parchment-hued with dark lettering, both featuring a beautiful floral print on the inside of the envelopes. (The old-fashioned stamps are also a gorgeous touch.) This invite flat looks like a Baroque still life, complete with fruit embellishments, books, and a museum-inspired backdrop.
The basics of a romantic wedding invite suite:
Opt for an elegant neutral like black, white, or gold with contrasting lettering. If you love color, try jewel tones.
Choose a script with lots of flourishes.
Incorporate imagery that hits your vintage theme but also builds anticipation for your guests. This floral invite theme is gorgeous unto itself, but also sets the tone for your luxe and romantic details to come.
White and Black Wedding Shoes for a Vintage Spring Wedding
No vintage bridal look would be complete without some high-drama footwear! These black and white lace-up styles are a luxe and romantic choice for a 19th century-inspired wedding aesthetic. This black pair makes for a moody and Gothic vibe, while the white looks straight from Edwardian-style Europe. You'll look like you've stepped right out of an Old World romance novel.
Things to consider when choosing your vintage bridal shoes:
Break in your wedding shoes a few times before the big day.
Plan your wedding dress alterations based on your heel height.
Find vintage shoe inspiration by watching period-drama movies and perusing a few costume-design books.
Floral Backdrop and Greenery for an Indoor Spring Wedding Ceremony
If you're planning an indoor ceremony with plenty of spring light and natural flourishes, consider adding an elegant arrangement of greenery and white florals. This look is inherently classic—not too showy but far from drab—and looks incredible in white, neutral, wooden, or gilded venue spaces. These shades of emerald and cream also work with any shade of spring wedding dress, be it white, black, off-white, gold, blue, or blush.
For a romantic and effortless floral look, focus on creating asymmetrical arrangements and lush, over-the-top sprays of leaves and blooms. This creates the illusion of a natural backdrop (luxe and fanciful) as opposed to a rigid garden plot (perhaps too stiff and formal for this vintage-inspired aesthetic).
Spring Wedding Ideas for Bouquet and Flowers (That Aren't Just Pastels)
Blush, lilac, and soft blue often take center stage for spring weddings, but they're by no means your only choice when it comes to florals. For a striking and sophisticated vibe, consider an all-white bouquet with deep green accents. Full blooms like peonies and ranunculus beckon toward summer, while smaller blooms evoke wildflower meadows and moonlit evenings.
If you love this bouquet but want to incorporate more traditional pastels, consider a monochrome arrangement in a hue that complements your venue. Likewise, a moody jewel-toned palette (similar to the dark purple accents in the invite arrangements) is perfectly on cue for Baroque-inspired décor. Both will add a pop of divine color without losing the elegant effect of your vintage theme.
Luxe Spring Wedding Ideas for Cake and Dessert Table
Add a fresh spin to your spring wedding cake with a darker palette and 3D embellishments. This cake design is both formal and fanciful with its moody color scheme and sculptural embellishments. This darker hue is also a gorgeous contrast to the venue's natural spring light.
A few dessert and tablescape ideas for a vintage spring wedding:
Embellished macarons
Fruit platters
Caramelized figs
Jewel-toned candies
Fanciful cocktails and mocktails
Gelato or old-fashioned ice cream
Mirrored platters to add visual interest to your confections
Candlesticks to light up the drama
A vintage lace table runner to match your vintage bridal gown
Groom's Attire for a Luxe Vintage Wedding
Grooms don't often get a lot of choices when it comes to formalwear, which is why we are so excited to see this styled shoot's one-of-a-kind suit inspiration! This groom's velvet coat is a stylish match for the theme, venue, and floral scheme. The hue is much more striking than a black or white suitcoat, yet perfectly appropriate for timeless and sophisticated spring wedding themes.
Here are a few ideas for groom's accessories to complement vintage wedding attire:
Gold or gem cufflinks
A unique bowtie
A matching pocket-square
A polished boutonniere
Vintage-print socks
Bride's Gold Crown and HAMU Inspiration
Bridal accessories for vintage wedding themes are all about balance. For example, this statement crown is luxe by nature, but is tempered by a soft, organic design and light pearly accents. It's light enough for a spring wedding—yet striking enough for a black-tie celebration!
Fresh and feminine styling keeps this bridal look grounded—another gorgeous option for warm weather and a nature-inspired venue. Heavy contouring and makeup would overwhelm these looks, and an overly structured hairstyle might appear too fussy for a spring aesthetic. We also love how the model's low bun was made with a few loose tendrils—the perfect dose of "undone" for this fairytale ensemble.
A few more tips for bridal HAMU:
Take your weather into consideration. For warm spring conditions, ask for something that won't look overly shiny or melty after a sunny photo session.
Drink plenty of water in the weeks before your wedding date.
Find a balance between skin, eye, and lip makeup. Smoky eyes look best when paired with a neutral lip; contour should look flattering and natural; and a statement lip contrasts beautifully with light makeup elsewhere.
Use a teeth whitener.
Make sure your foundation matches your skin tone as closely as possible. (Think of your photographs!)
Opt for an updo for warm or humid climates. Loose hair works better for temperate conditions. 
Veils work best with "sturdy" buns rather than volumized curls or loose updos.
Black Ball Gown Bridal Dress for Unique Spring Wedding Themes
Spring wedding attire often calls for light embellishments, airy fabrics, and classic white palettes. If you love something a little more unconventional (and not to mention stunningly gorgeous), consider upgrading to a black wedding gown in a showstopping silhouette. This Zander style from our Sottero and Midgley line is designed to convert even the most die-hard of traditionalists…
What our brides love about this breathtaking design for a spring wedding:
The stylish and striking black hue (of course)
The nude and illusion underlay
Long sleeves with a "tattoo lace" effect
A plunging V-neckline designed to flatter and elongate your bodice
The sexy low back
A full-sweep ball gown skirt for black-tie elegance
Layered lace and tulle for a Gothic-chic vibe
This sleeved bridal gown also offers easy coverage for cooler weather and looks incredible in photos. It's truly an exceptional choice for an elevated spring wedding.
Outdoor Bridal Portrait Inspiration for Spring Wedding Themes
One of our favorite parts of a spring wedding is its bridal portrait potential. With warmer days and new growth for the season, you've got all kinds of outdoor backdrops to work with: green growth, blue skies, blossoms, and crystalline sunshine—just to name a few.
Some of our favorite photo inspo for the occasion:
Look for shooting areas with dappled sunlight.
Contrast a black wedding gown with neutral greenery and gold. (Too much color may start to clash.)
Illuminate a white wedding gown with soft greenery, garden sunlight, and contrasting florals in the backdrop.
Set up an outdoor tablescape for romantic couples' photos "al fresco."
Use your bouquet as a prop, but let it feel easy and natural against your outdoor backdrop.
Outdoor Table Setup for an Intimate Wedding
If you're planning a chic micro wedding in an intimate venue, you have a unique opportunity to create a luxurious dining experience for your guests and wedding party. A romantic outdoor tablescape may turn out to be the highlight of your reception!
A few details from this gorgeous dining setup:
Hand-drawn place settings with confectionary accents
Antique-inspired flatware
Glass and silver goblets to tie in the Baroque still-life theme
Fruits and floral centerpieces
Black candles for a touch of Victorian drama
Gilded card holders
A soft white linen tablecloth that's ready for spring
Whimsical Floral Bridal Gown for a Spring Wedding
If you've got traditional taste but a flair for drama, consider a white wedding dress with statement accessories. Cue Stevie by Maggie Sottero, a classically flattering A-line silhouette with lush lace embellishments—the perfect foundation for ultra-feminine bell sleeves, chandelier earrings, and a gilded bridal crown. This off-the-shoulder treatment is especially magical for a spring wedding, offering coverage and embellishment in all the right places.
Love this divine Baroque-inspired styled shoot? Check out all the vendors and details at GreenWeddingShoes.com. There's also more to explore in this elegant manor gallery featuring six bohemian wedding gowns, as well as this rustic outdoor celebration with whimsical bridalwear and colorful florals. Your spring wedding is destined to be gorgeous!
[ad_2]
Source link