[ad_1]
Tips and Trends | January 8, 2021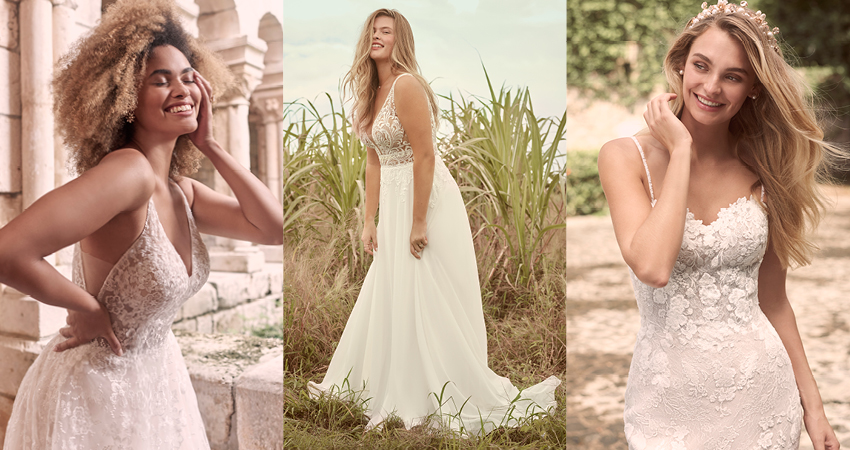 Today's post is dedicated to three very important questions in your journey to finding the perfect wedding dress: How do I figure out my body type? Which silhouettes work for my body type? and most importantly, How do I find the perfect wedding dress for my body type? We have everything you need to ace your dress-shopping fit strategy below!
Before heading to your first bridal appointment, it's a good idea to get to know your general measurements and how they comprise your natural body type. No bride fits neatly into one shape or another, but basic categories can be useful to understanding your proportions, narrowing your wedding gown search, and choosing silhouettes that play up your most flattering features.
For your consideration, the body shapes we're outlining in this post are hourglass, small-chested, petite, pear-shaped, tall and slender, athletic, and full chested. Combine tips and recommendations from each category to find the perfect wedding dress for your body type—whatever your unique features, personal aesthetic, style, and wedding vision. Keep scrolling!
Dress Shopping Tips for Finding the Perfect Wedding Dress for Your Body Type
Trust your bridal consultant. During your dress-shopping appointment they may pull a wedding gown silhouette that feels outside of your comfort zone. Remember to keep an open mind: stylists are trained to help each of their brides find "the one!"
Do your hair and makeup before a bridal appointment. You don't have to go all out with the contour, but a little zhoosh will boost your confidence and help you imagine a complete bridal look for your big day.
Shop with your trusted bride tribe only. Buying a wedding dress is a big deal, so you have every right to exclude people who don't love, support, and cheer for you at every step of the way.
Use a few simple references and style tips to help you find the perfect wedding dress for your body type. We've outlined a few of our tried-and-true pointers below!
Wedding Dresses for Hourglass Figures
A corset style and/or mermaid wedding dress is designed to flatter and accentuate your natural curves. A relaxed fit-and-flare wedding dress (less structured but equally as glamorous) is also a gorgeous option for hourglass brides.
If a ball gown wedding dress strikes your fancy, opt for a structured bodice and full skirt to cinch in your waist and play up your red-carpet silhouette.
A sweetheart or portrait neckline complements your feminine shape, especially when paired with a fit-and-flare silhouette.
Avoid loose-fitting sheath styles that tend to drown out your figure.
Wedding Dresses for Small-Chested Figures
Find the perfect wedding dress for your body type by adding structure and form in strategic places. For example, ruching, wrapping, and embellishment help play up your décolletage and add visual interest to your bodice and neckline.
Consider that instead of trying to make your breasts look larger, you could wear something only a small-busted bride can rock: a deep plunging V-neck and low back!
Wedding Dresses for Petite Brides
Choose smooth, monochromatic fabrics with flowy layers and vertical details. Heavy embellishment tends to add bulk to your silhouette.
Ball gown wedding dresses can overwhelm a smaller figure, but a narrower A-line silhouette plays up your curves and elongates your frame.
Certain fit-and-flare styles work well for petite brides—just opt for relaxed construction and subtle embellishment.
A high or natural waistline helps you avoid looking "scrunched up" or bottom-heavy. Watch out for dropped waistlines: they tend to shorten you by visually lowering the starting point for your legs and hips.
Wedding Dresses for Pear-Shaped Body Types
An A-line or ball gown wedding dress looks great on most body types, but we think they look especially dreamy on a pear-shaped figure.
Find the perfect wedding dress for your body type by focusing on the bodice: embellishments and details help to accentuate your décolletage and waistline.
If you like, flaunt your bottom assets with a fit-and-flare wedding gown in a chic and comfy fabrication.
Wedding Dresses for Tall and Slender Brides
Find the perfect wedding dress for your body type by focusing on elegant details and a pretty silhouette. Showy wedding gowns are gorgeous, but they might feel like overkill on your lithe and graceful frame.
Play up your height with an elegant sheath wedding gown. You'll look like a Roman goddess!
To downplay your height, stay clear of empire waists; opt for a ball gown wedding dress with a low waist; or try out a fit-and-flare to lend focus to your curves.
Wedding Dresses for Athletic Body Types
Create a sexy silhouette with a slimming A-line or fit-and-flare wedding dress.
Work with angles: a unique neckline, swirls of beading and embellishments, and a tiered skirt help to add visual interest to your silhouette.
Show off your toned arms and shoulders with a halter top or strapless style.
Wedding Dresses for Full-Chested Figures
Styles with wider straps or sleeves help to support your chest and hide your undergarments.
Choose your neckline wisely. A sweetheart, portrait, or bateau neckline, or even an off-the-shoulder look, can hide a strapless bra and flatter your natural curves.
Opt for a gown with a higher back or corset. These styles can hide a bra and also provide extra support. You can still wear illusion; just wear nude garments underneath for secret support.
More questions to consider when looking for the perfect wedding dress for your body type.
What makes you feel comfortable for your day job? What makes you feel sexy for a special occasion? It's a delicate balance of both when getting dressed up for your wedding: you want to feel like yourself on your big day without playing it too safe. Think about dress styles and aesthetics that make you feel like the best version of yourself—elegant and sophisticated, but still true to your individual personality.
Think about beauty routines that make you feel confident. Does a structured updo make you feel fit for the occasion, or do natural waves help you go with the flow? Do accessories elevate your look or distract from it? Does the thought of wearing heels make you want to dance all night or bail on the situation entirely? Clues like these help you find a dress that synthesizes your body type, personal style, and overall vision for your big day.
Can you let go of some insecurities and listen to feedback from your close friends and family? Every bride has things she likes and doesn't like about her body. It's important to find a dress that fits these preferences, but you can't let your inner critic dominate your decision-making. We're willing to bet your loved ones—and most importantly your sweetheart—have a much more glowing perception of your gorgeous features than you do!
Check out more shopping resources below, and head to an Authorized Retailer near you to find the perfect wedding dress for your body type. Happy wedding dress shopping!
How to Find a Specific Dress in Your Area
Wedding Dress Budget Breakdown
[ad_2]
Source link