[ad_1]
Tips and TrendsWedding Inspo | July 16, 2020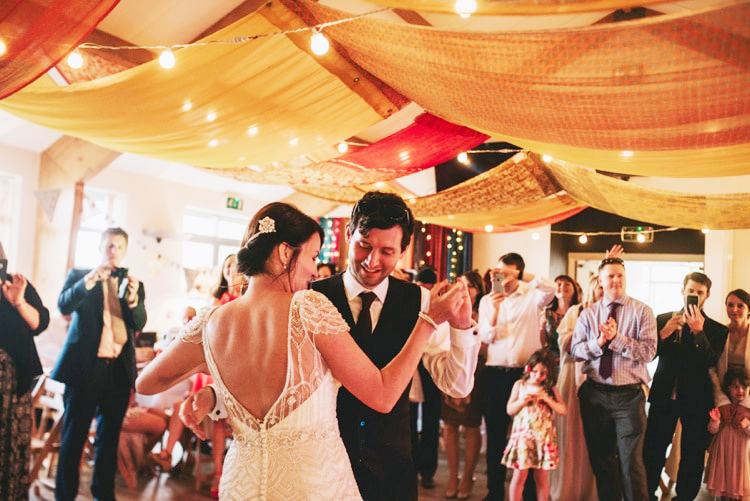 Say "Heck yes, I do!" to a festival wedding. This fun and super chic party aesthetic is designed to show off your more creative and adventurous side as a couple. Get inspired with gorgeous wedding dresses, colorful décor, DIY details, and fabulous extras in our gallery of festival wedding ideas below!
Festival Wedding Featuring Food Truck, Piñatas, and Fairy Lights with Wedding Gown Dakota by Sottero and Midgley
PC: Kristina Wild Photography
Looking for a unique and exuberant way to celebrate outdoors? Turn up the summer flavor with fairy lights, a food truck, and a fab party finale!
Get inspired with this couple's forest-meets-festival evening under the stars, complete with tacos, a made-to-assemble dance floor, and a glitter-filled piñata to finish the event with style. This bride chose sleeved lace Dakota by Sottero and Midgley for her bridal look. It was lightweight enough for summer weather but detailed enough for the chicest of statements!
Boho Reception Décor Featuring Wicker Furniture, Geometric Motifs, and Bicycles with Wedding Dress: Lilana by Maggie Sottero
PC: Tori Meadows Photography
No festival wedding would be complete without a little geometric charm—especially when it comes to a gorgeous eyelet lace pattern! Complement the unique motif and texture of a wedding dress like Lilana by Maggie Sottero with boho-inspired ceremony décor (e.g. that super cute hexagonal archway), lush florals (in a peachy-keen color scheme!), and embellished vintage bicycles (DIYed in rose gold, no less).
Add a wicker-chair throne, and you might as well be crowned Queen of Summertime. And that woodsy backdrop makes for relaxed and romantic photo ops. Gorgeous!
Bold Festival Wedding Featuring Rock 'N' Roll Glamping with Wedding Gown: Kathleen by Maggie Sottero
PC: Todd Collins Photography
With all the fuss and frazzle of wedding planning, it's easy to forget that "HAVE SO MUCH FUN!" should be at the top of your to-do list. Get inspired with this fabulous outdoor glamping extravaganza featuring yard games, vintage furniture, fairy lights, big florals, and (of course!) teepee tents for the overnighters.
The bride chose Kathleen by Maggie Sottero for her glam and whimsical festival wedding—a gorgeous wedding dress for flower crowns and boho-inspired accessories.
Boho Wedding Featuring Donut Truck with Ball Gown Wedding Dress: Mallory Dawn by Maggie Sottero
PC: Rachel Laxton Photography
If you're not totally on board with a festival wedding but still love the playful aesthetic, consider incorporating a few boho details in your colors, food, and venue. This couple opted for more polished attire (a gorgeous sleeved wedding dress Mallory Dawn for her and a smart blue suit for him).
And their unique donut truck is a whimsical alternative to a traditional dessert display. Divine!
60s Décor Featuring Vintage Van, Warm Palettes, and Boho Tapestries with Bridal Dress: Charlene by Maggie Sottero
PC: Wild Hearts Photography
Festival weddings are all about nostalgia. So go all in with a 60s camper van, vintage fabrics, and a groovy bridal look! Featuring shimmery beading and lightweight layers, Charlene by Maggie Sottero lends easily to a relaxed boho aesthetic while still feeling "glammed up" for the occasion.
Charlene is also a great gown for tattooed brides looking to show off their shoulders, collarbones, and back.
Woodsy Décor Featuring Swings, Florals, and Sparklers with Wedding Dress: Deirdre by Maggie Sottero
PC: Evergreen Film Company
One of our all-time classics for a boho or vintage-inspired wedding—Deirdre by Maggie Sottero is designed for a soft, feminine, and totally covetable bridal look! Work with your florist and/or photographer to accentuate this gown's graceful lines and texture.
Deirdre does especially well with unique embellishments, soft palettes, and warm venue light, AKA a woodsy meadow location with some gorgeous nature-inspired accent pieces. Perfection!
Rustic Festival Wedding Décor Featuring Colorful Tapestries, Rustic Décor, DIY Signage with Wedding Gown: Ettia by Maggie Sottero
PC: Becky Ryan Photography
A rustic festival wedding is all about charming DIY details, from hand-drawn banners and menus to eclectic furniture and décor. Get inspired with this couple's sweet and colorful indoor-outdoor celebration, complete with yard games, jewel-toned tapestries, big florals, and a cozy dance floor.
The bride chose glam yet relaxed wedding dress Ettia by Maggie Sottero for her festival-inspired look, featuring vintage-inspired beading and an ultra-luxe satin slip underlay. You can't go wrong with this one-of-a-kind design!
Unique Wedding Décor Featuring Ice Cream Truck and Woodsy Backdrop with Bridal Gown: Dakota by Sottero and Midgley
PC: Kelsey Christian Photography
We present another lovely outdoor celebration featuring Dakota by Sottero and Midgley. This intimate festival wedding is all about the sweet and playful details. Opt for a novelty ice cream truck for super cute photo ops, and time your event with golden hour to have a relaxing reception with friends and fam. Divine!
Next up on your festival wedding checklist? Finding the perfect flower crown for your romantic wedding dress! Get inspired with delicate halos, glitzy jewelry, lush blooms, and DIY accents in the link. Then head over to our Pinterest gallery of boho trends for an effortlessly magical and romantic look. Happy planning!
[ad_2]
Source link