[ad_1]
Real WeddingsWedding Inspo | November 28, 2020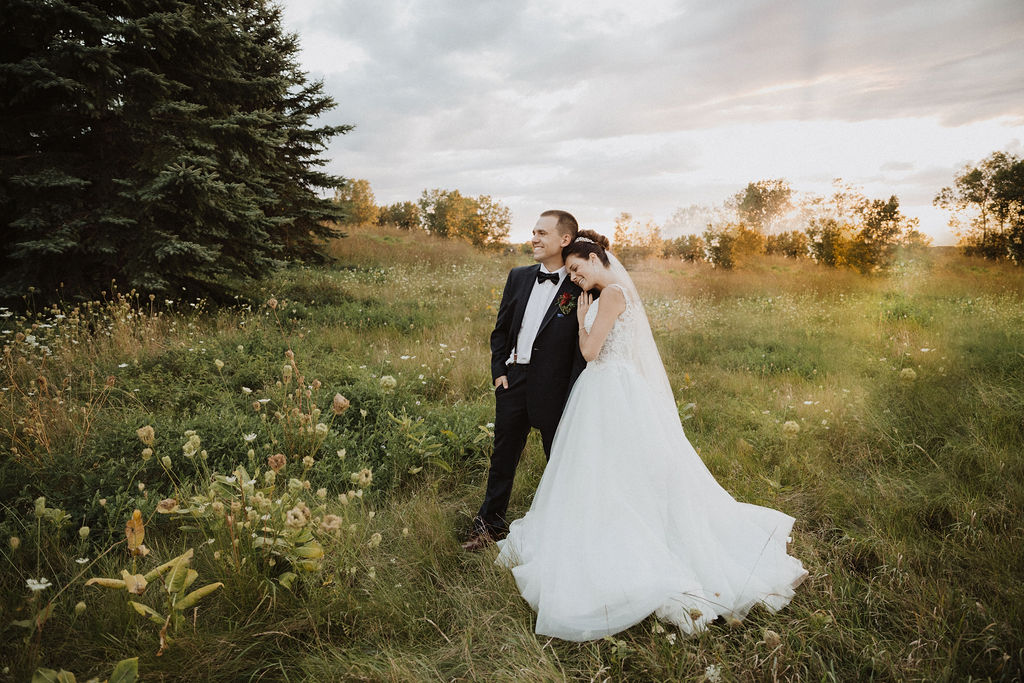 We're swooning over this Beauty and Beast themed wedding featuring real bride Kati and her sweetheart, Stephen. Inspired by "A Tale as Old as Time," this real wedding captured by Haley Rae Photography gives us all the feels with a unique love story, a modern princess wedding dress, enchanting details, and a COVID-friendly ceremony and reception. What are you waiting for? Keep scrolling!
Finding Love in Chemistry Class
My husband, Stephen, and I met in chemistry lab our freshman year of college! I know, I know. . . "we had chemistry!" It may be a joke, but it was true! He introduced himself week one with a handshake, and I was smitten.
Little did I know, he had seen me the week prior during our introduction class and had thought, "I want to get to know that girl!". We quickly became best friends. A few months later, we officially became more than friends, and the rest is history!
Four years later, Stephen asked me to marry him at the place where we had our first date, The Toledo Zoo in Ohio! Stephen had made sure that his family, my family, and our closest friends were there to witness and share in the joy of the day.
After he got down on one knee in front of the elephant exhibit (my favorite exhibit), we were surrounded by friends and family rushing down the boardwalk towards us. I couldn't decide if the proposal or sharing it with those I love was a better surprise! We got to spend the rest of the day in our favorite place with our favorite people. It was perfect!
Planning a Wedding During COVID
Our wedding was originally planned to host 200 guests. Due to COVID-19, we were faced with deciding to move our date or minimize our guest list. Ultimately, we decided to minimize the guest list. Every time we thought about moving our date the question was, "But to when?".
We couldn't possibly predict a time that would be safe enough to have our wedding the way we originally planned it. Plus, we were also looking forward to starting our lives together! So, getting married couldn't wait any longer in our minds.
Because of the COVID restrictions in Michigan, we had to change venues. However, a guardian angel was looking down on us because we were able to find a new venue whose last available date in 2020 was our wedding date! It seemed like a tough decision at first, but I know it was meant to be in the end.
Sending out notices to friends and family to inform them that they could no longer attend our wedding was heartbreaking, but everyone understood.
Thankfully, we were still able to have our wedding on our original date with our immediate family and close friends totaling less than 50 people. Everyone wore masks, and it was different from our original vision, but we wouldn't have changed a thing!
I went wedding dress shopping in Toledo, Ohio to two stores with my mom, sister, and mother-in-law. My vision for my Beauty and the Beast themed wedding dress was: lace, long sleeves, and princess vibes. At the first store, I found a dress with all those things!
It seemed to be exactly what I wanted. However, I wanted to be sure of my decision. So, we went to the second shop, Atlas Bridal where they were having a Maggie Sottero trunk show. I love Maggie Sottero's designs, so I had to see them for myself!
While working with me, my stylist brought in Taylor Lynette by Maggie Sottero that she said I must try on. It was all sparkle tulle and did not have sleeves or lace. I thought, "It's GORGEOUS, but it can't be the one for me." Despite this, my stylist told me that it truly fit the Beauty and the Beast vision of our wedding that I had described. The moment she slipped it on, I had her turn me away from the mirror.
Even though I couldn't see myself in the mirror, I KNEW it was the one. I could just feel it! It was my princess gown to end all princess gowns, and it would be what I married my Prince Charming in. When I turned to see myself in the mirror, I immediately smiled at the reflection of a girl that looked like a princess! To top it off, my sister, who is not known to be the emotional one, cried when she saw me.
The thing I loved most about my dress was how it made me feel. I have been a ballroom dancer for many years and been worn plenty of gowns. But I've never felt like such a princess as I did in Taylor Lynette. I loved everything from its intricate bodice detail and beautiful button to how it fell on my waist.
During the wedding ceremony, the sun came through the stained-glass windows of the church and lit up the skirt like in a Disney movie. I couldn't stop staring at the sparkle! Looking back, I still love my wedding dress because it was the perfect gown for me to wear on the best day of my life. 
A Beauty and the Beast Themed Wedding
The theme of our wedding was "A Tale as Old as Time." I am lucky enough that my husband obliged my Disney obsession and allowed me to have our wedding based on Beauty and the Beast, which is my favorite movie of all time. Everything from my bridesmaids look, to what color the groomsmen wore, to the flowers, and cake were all themed around the Disney classic.
We got married at my home church, St. Joseph Catholic Church in Lake Orion, Michigan. The ceremony was a Catholic ceremony officiated by my priest as well as Stephen's lifelong pastor. They shared celebrating our wedding ceremony together, and it was truly a beautiful reflection on both of our lives.
The reception was hosted down the road at Boulder Pointe Country Club and was outside on the veranda due to COVID. We had a receiving line of one table at a time. Everyone wore their masks so that we could still speak with them and celebrate!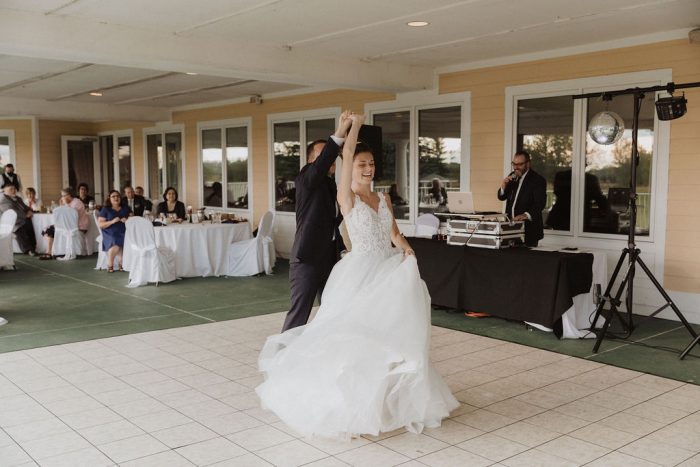 It was a beautiful summer day, and we enjoyed the weather outside on the veranda. Due to the COVID situation, we opted to not have any guests dance but rather concluded the night right before sunset. Our guests waved to us goodnight, off into the sunset we went!
The Inspiration for My Beauty and the Beast Wedding Look
My wedding dress was not the design I first expected to fall in love with—it was better! It outshone what I had found and was perfectly fitting of the classical princess vision I wanted. As soon as I had my dress picked out, it was easy to allow the Atlas Bridal stylists to find me a blusher veil, veil, and tiara equally fitting of the day.
They even found my earrings, which were also fitting of my theme! The look was completed by "glass slippers" (aka heels that sparkled from every angle!). I truly felt like a real-life princess that day. And to top it off, my sister got me a red rose purse to carry throughout the day and surprised me with our grandmother's cross, which she had worn every day of her life. It was the perfect sentiment to complete the whole look!
The theme of the bridal party's attire was also based on Beauty and the Beast. The bridesmaids' dresses were rose red and looked like Belle's famous off-the-shoulder gown.
The groom and his groomsmen sported navy suits. My husband wore a red rose on his lapel, which matched my cascading bouquet of red roses. Overall, the wedding party's look was a loose yet classic interpretation of the famous Disney movie.  
A Beauty and the Beast Themed Wedding Cake
Our wedding cake was made by a local Toledo pastry shop, So Sweet. They drove our cake, macaron tower, and other pastries up to Michigan for our special day, as they are my husband's absolute favorite pastry shop (it was one of his two requests!).
The cake itself was also themed, not surprisingly, on Beauty and the Beast! The three-tiered, buttercream covered layers were spotted with real red roses and topped with a golden cut out of the Beast's rose. Even the desserts and centerpieces followed that theme, and they were also extremely delicious!   
Incorporating Unique and Personal Details into Our Wedding Day
Our most important incorporation of the day, and Stephen's only other request, was that our Miniature Schnauzer, Ollivander (aka Olli!), was present for a family photo! Of course, he could not go the church, so our friends went to my home and brought him to the reception. Olli had not seen "dad" in a whole day, so it was quite the reunion!
In addition to our pup being a part of the big day, it was also extremely special to us that my priest and his pastor shared in marrying us and celebrating us during the ceremony.
There were countless other nuances throughout the day, including me using my mom's handkerchief from her wedding, Stephen wearing his father's prized watch and Mickey Mouse cufflinks that he had gotten him as a gift, me being able to wear my grandmother's cross, and Stephen wearing his grandfather's pocket square.  
Favorite Moments from My Wedding Day
Pinpointing just one moment from our day as a favorite is hard. There are so many moments that I will remember forever, from seeing Stephen tear up at the altar as I walked down the aisle and saying my vows to the love of my life, to laughing as he cut the smallest piece of cake imaginable. They were all small but magical moments.
However, I think my favorite moment was the most unexpected. Following dinner, we were all chatting on the veranda when someone said, "Look up!". We looked up to not only see the sun bursting through the clouds but a rainbow hot air balloon flying over our heads.
This was so special to us because my family sees the sun coming through the clouds as a way for my passed grandmother to remind us she is still with us. And rainbows give same effect for grandfather who has passed on as well. I couldn't help but think that was them looking down on us and giving us their blessing. There could not have been a more magical moment!
Capturing Our Best Day Ever
Our Beauty and the Beast wedding was not that we had expected but all that we needed! It was magical in every moment. Thanks to all our amazing vendors, I felt like a real-life princess throughout. I'd like to especially thank our talented photographer, Haley Rae, and videographer, Dakoda Johnson, for capturing the beautiful essence of the day in its entirety! 
Tips for Brides Getting Married During COVID
My biggest tip for brides getting married during COVID is to rightfully allow yourself to mourn that you have lost special parts of your day (whether that be people that cannot be there, the venue that you cannot have, or even the small details needing to change).
But, more importantly, my biggest tip is to revel in what you still have. Although things may look different and perhaps not at all like what you planned, be optimistic! Looking back, you won't feel as though you lost as much as you think.
We had to minimize our guest list to about 25% of its original size, change venues, change florists, etc. It was all super hard in the moment, but I would not have had it any other way. Be patient, be hopeful, be optimistic, and be willing to adapt to change. Your wedding will be beautiful!
We love this Beauty and the Beast themed wedding! And we're so grateful to Kati for sharing her wedding day planning and experiences with us! For more real wedding inspo, check out the following blogs. Cheers!
Fairytale Wedding at Disney's Pandora the World of Avatar
Spring Wedding Featuring a Donut Truck and a Lace Ball Gown Wedding Dress


[ad_2]
Source link